OUT IN THE LINE-UP (70 min edit)
An award-winning documentary uncovering the taboo of Homosexuality in Surfing.

Two gay surfers unite to uncover the taboo of homosexuality in surfing. Together they embark on a global journey to speak with people from all corners of the surfing community about an aspect of surf culture that has until now remained hidden. As their journey unfolds, they uncover a culture of fear, secrecy and exclusion but are inspired to affect change by connecting people, provoking discussion and looking to the sport's grassroots values of freedom of spirit and love for the ocean.
For an extended Synopsis please visit outinthelineup.com/home/synopsis/
OUT IN THE LINE-UP (30 min edit)
OUT IN THE LINE-UP (30 min edit) from Gay Surfers on Vimeo.
OUT in the line-up is a documentary film about homosexuality in surfing.
A 30 minute version was made in 2020 to be used as an educational resource in high schools and universities. Please contact us via outinthelineup.com for private screenings and licensing.
To live your dreams you cannot hide your true self
WATCH ONLINE or DOWNLOAD the film on Vimeo or ReelHouse
Or BUY a DVD here!
Two gay surfers embark on a global journey to uncover the taboo of homosexuality in surfing. They become part of an emerging community prepared to step out of the shadows of secrecy and create a more open and accepting surfing culture. (read more)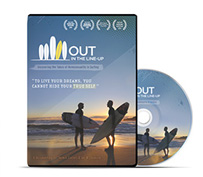 WATCH / DOWNLOAD