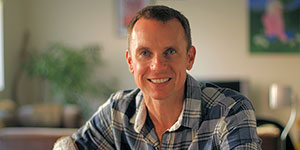 Cam has been involved with surf video production for over 16 years. He edited his first full length surfing film ' Deep Throat" in 1996 with Tim Bonython (Biggest Wednesday / Immersion). He has worked with world renowned surf film cinematographer Jack McCoy on 4 films, most recently ' A Deeper Shade of Blue' (2011). He has produced and edited 2 sessions of the 'Ra' TV series, edited TV shows for Quiksilver & Rip Curl, produced content for FUEL TV and produced and edited the Planet X TV series for 5 years.
In 2012 Cam was part of the post production team for Storm Surfer 3D, editing part of the feature documentary, the TV series and webisodes and well as supervising the final stages of the documentary.
Cam has won multiple awards for the shows he has produced and edited.