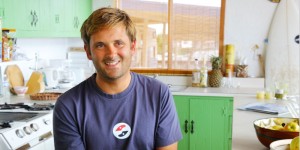 Thomas is originally from France, but moved to Australia at 18 years old. He is the founder of GaySurfers.net – the first global community for gay surfers, which now counts thousands of members worldwide. Thomas produced the documentary film uncovering the taboo of homosexuality in Surfing called "OUT in the line-up" in 2014.
Thomas worked for Universal Music in France before moving to Australia to help independent record labels distribute music on the Internet. After employment by the mobile phone company Hutchinson 3 as Product Marketing Manager for Music, he worked with a number of advertising agencies (including Play communications) as Event Producer, creating promotional campaigns which connected musicians with corporate brands. Thomas has also worked as Production Manager for art installations and experiential marketing campaigns.
Thomas has written, produced and edited the French short film "Gloomy Sunday", and produced, directed and edited a remake of "Mulholland Drive" called "Malodorant drive" Australia in 2010.