Originally published by Yahoo Sports
---
NEW ORLEANS – San Francisco 49ers cornerback Chris Culliver has reportedly made inflammatory comments regarding homosexuality in football just a few days before Super Bowl XLVII.
Shock jock Artie Lange revealed he had interviewed Culliver at media day Tuesday and aired a segment on his show that night, where the player insisted that any gay players would not be welcome on the team.
"I don't do the gay guys man," said Culliver, whose Niners play the Baltimore Ravens on Sunday. "I don't do that. No, we don't got no gay people on the team, they gotta get up out of here if they do.
"Can't be with that sweet stuff. Nah…can't be…in the locker room man. Nah."
When quizzed by Lange whether any homosexual athletes would need to keep their sexuality a secret in football, Culliver responded: "Yeah, come out 10 years later after that."
You can listen to the interview here.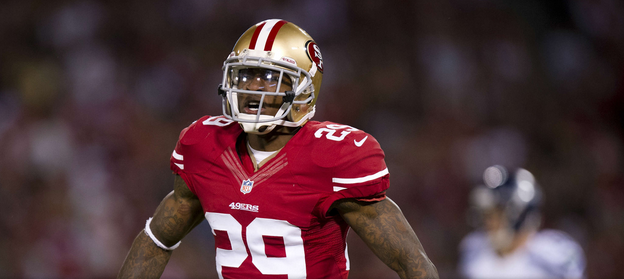 In the NFL's long history, there has never been an openly gay active player. However, sexual orientation has increasingly come into the spotlight recently.
The Manti Te'o girlfriend hoax saga was believed by many to be a ruse designed to hide his homosexuality, a claim that was vehemently denied by the former Notre Dame defensive star.
Baltimore Ravens linebacker Brendon Ayanbadejo has been an outspoken supporter of gay rights, using the profile of Super Bowl week to bring the issue further into the spotlight.
[Related: Ray Lewis agitated over link to PED during Super Bowl week]
And Monday, a report surfaced that former NFL player Kwame Harris had been charged withassaulting a former boyfriend.
"You always think because of the odds and the numbers there are gay players in the NFL," former Pittsburgh Steelers running back Jerome Bettis told Huffington Post Live. "They haven't obviously come out and told anyone about it not even behind the scenes.
"Obviously there will be people who disagree and people who don't have a problem with it, but that will be in life as well. I don't think it is going to affect someone's play.
"Because it is so testosterone driven, it'd be really difficult for a gay player to stand up and say, 'Hey, I'm gay and I'm an NFL player.' "
Culliver, 24, did little to improve his own reputation on Wednesday, sending out a Tweet about a woman's monthly cycle.
Culliver, a reserve defensive back for San Francisco, appeared in all 16 games, recording 48 tackles and two interceptions.