Esera Tualo and Wade Davis were both gay when they played for the National Football League but both were so terrified about the impact of coming out that they stayed in the closet well into retirement.
The two ex-football players, now age 45 and 35 respectively, have penned eye-opening letters to their younger selves in an effort to explain the stress and fear that many gay athletes contend with, even today.
But their letters also reveal hope and offer words of encouragement. Both press their younger selves to come out earlier, while they're still playing – and insist doing so would have made them better athletes.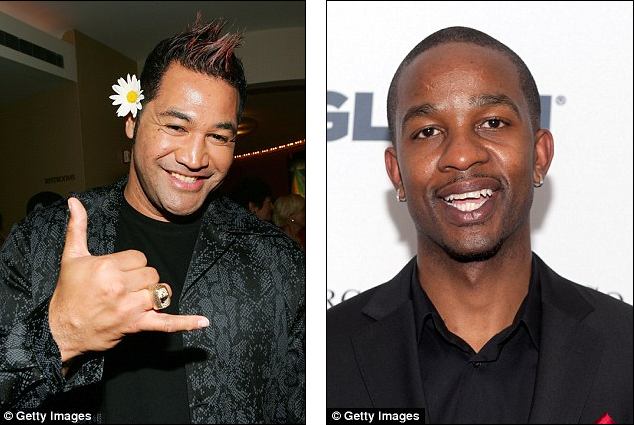 Out and proud: Esera Tualo, 45, (left) come out publicly three years after he left the NFL. Wade Davis, 34, (right) outed himself in 2012
The project, published by the Sports Illustrated Monday Morning Quarterback blog, comes after Jason Collins became the first openly gay athlete in a major sport to out himself while still playing.
Gay right activists insist that the NFL currently has several gay players who are considering coming out as the nation becomes more accepting of homosexuality.

'What an amazing player you'll be, not having to wake up every day hoping nobody finds out. Wake up and free that six-year-old boy who shut himself in the closet,' Tualo write to his 25-year-old self.

At the time – 1993 – he was a defensive tackle for the Minnesota Vikings.

But it was still early in the gay rights movement. To date no active NFL players have publicly announced that they are gay. Only four former players have come out.

The risks remained high. Tualo tells his 16-year-old self to stay in the closet – lest he lose his entire football carer. 
Tuaolo appeared in the Super Bowl in 1999 with the Atlanta Falcons. His career saw him play for several teams – including the Minnesota Vikings
'You'd like to come out, but there will be a steep price. You'll never be a blue-chip prospect, and you'll never play for the Packers or the Vikings,' he writes.

'Oregon State won't offer a scholarship to the gay nosetackle, no matter how big he is.'
Davis' essay reveals that decades in the closet turned him into a cruel, manipulative and sometimes cruel man. 
'You've become a bully because you want to appear masculine, and you hope to focus the collective attention on someone else. It's cruel. It's not who you are,' he writes to his 17-year-old self.

Davis, too, encourages himself to stay in the closet until he is past college and already established in professional football. For him, the right time to come out would have been at age 23 when he was playing for the Berlin Thunder of NFL Europe. 
Jason Collins became the first major sport team athlete to out himself while he was still actively playing
'It all gets better from here. You're afraid you're going to have to stay in the closet your whole life, but you won't,' he writes to himself.

'You'll live in Harlem and have a partner for nearly a decade. You're going to be able to do amazing work that affects youth and adults, straight and gay. For now, take a step back and enjoy the fact that you're playing on the biggest stage on earth doing what you wanted to do.'
Tuolo, who reached the Super Bowl in 1999 with the Atlanta Falcons, retired from football in 1999 after eight seasons. He came out in 2002 in an HBO documentary.

Davis was picked up by several teams, but spent most of his career in NFL Europe. He retired from the Washington Redskins in 2003 after four seasons in the league.
Read more: http://www.dailymail.co.uk/news/article-2375768/Gay-NFL-players-Esera-Tualo-Wade-Davis-write-letters-younger-selves.html#ixzz2a3YSgNaA
Follow us: @MailOnline on Twitter | DailyMail on Facebook