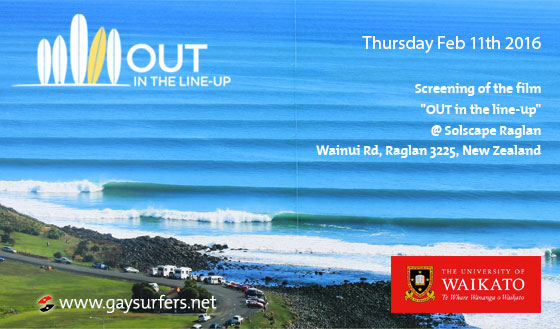 The University of Waikato is organising on 10-12 February a conference called Surfing Social: Challenging surfer identities and spaces.
A screening of the film "OUT in the line-up" will take place on the evening of Thursday Feb 11th at Solscape, with a Q&A before or after.
I am trying to rally some GS members to attend the screening in RAGLAN + a surf session + drinks
We may also make another screening of "OUT in the line-up" in AUCKLAND as part of Pride Festival
Perhaps you can help ? Please use this space to say if you can help organize this meetup.
Also FRANCO @francodvc semi pro surfer from Ecuador (who is in the film) is coming to live in NZ and he is hoping to make it to RAGLAN for the screening,
It is all very exciting. I am looking forward to meeting you all and surfing RAGLAN !!!
Cheers
Thomas