Originally published on mmajunkie.com on DEC 27, 2012 AT 10:20 AM ET
————————————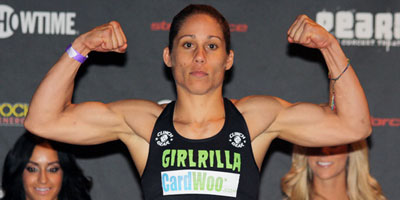 No active athlete on a major professional male sports team has publicly come out as gay.
Simple statistics tell us there are plenty, but as UFC President Dana White recently said, team sports simply need more brave athletes like Liz Carmouche.
Carmouche (7-2 MMA, 0-0 UFC), of course, is the UFC's first openly gay fighter, and she headlines February's UFC 157 event against UFC women's bantamweight champion Ronda Rousey (6-0 MMA, 0-0 UFC).
White appeared Tuesday on Showtime's "Jim Rome: Live," and White discussed the topic with fellow hosts Michael Irvin and James Carville, as well as host Rome.
While the panel unanimously agreed that there isn't a stigma like there was just a few years ago, White said it's going to take more athletes like Carmouche to see a true shift.
"I love it," White said. "I think what it's going to take is it's going to take some brave people. If you are gay, you're going to have to be brave, and you're going to have to come out say it.
"But people are very worried about it. Not just athletes, but actors and actresses in Hollywood, they're nervous about what's going to happen to them and their careers if they come out and say they are."
White specifically has been vocal in recent years with his support. But in a 2009 video, White expressed his anger over then-Sherdog reporter Loretta Hunt's story about some managers losing backstage access. In the video, he used a derogatory name for gays (while addressing unnamed sources in the story) and directed misogynist language at Hunt herself.
White later apologized, which followed complaints from organizations such as GLAAD. Additionally, the UFC has supported gay causes, such as the building of the Gay and Lesbian Community Center of Southern Nevada, in recent years.
White said he considers openly gay fighters, and even gay marriage, non-issues. And he said with more fighters like Carmouche, other athletes should feel the same way.
"I [couldn't] care less," White said. "It's 2013. I still think it's ridiculous that the government can tell two people who love each other they can't get married.
"Liz is. I'm happy to have her. She's out first openly gay fighter, and I hope more [come out]."
For more on UFC 157, stay tuned to the UFC Rumors section of the site.