Earlier today, free agent basketball player officially became the first openly gay player in the major sports leagues with the cover story in the current publication of Sports Illustrated. Miami Dolphins wide receiver Mike Wallace reacted on Twitter to the announcement. The Dolphins issued their own statement after Wallace's comments.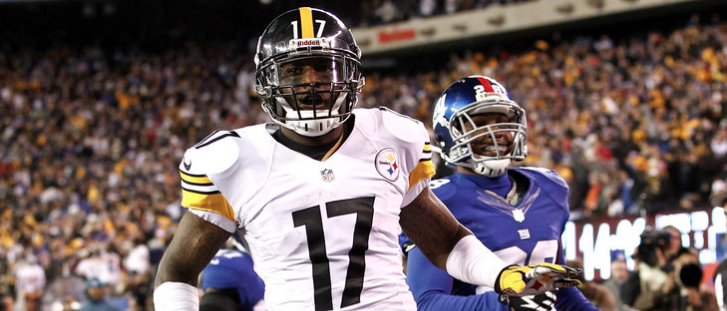 This morning, NBA free agent center Jason Collins made headlines when, in a Sports Illustrated cover article, he announced his homosexuality. Just a short time later, Miami Dolphins wide receiver Mike Wallace made headlines of his own by reacting to Collins' announcement via Twitter.
Wallace first tweet read, "All these beautiful women in the world and guys want to mess with other guys…smh." (SMH is shorthand for "shaking my head.")
A few minutes later, he added, "I'm not bashing anybody don't have anything against anyone. I just don't understand it."
Those two tweets soon erupted into debate of tolerance, both with people against Wallace's "ignorance," people agreeing with Wallace's statements, and people pointing out that Wallace has the right to his own opinion, even if some don't agree with it.
Wallace, of course, deleted the two tweets, then posted, "Never said anything was right or wrong I just said I don't understand! Deeply sorry for anyone offended."
A large majority of the reaction was extremely positive toward Collins for his announcement, including reactions from President Obama and several basketball players. The media focused any negative attention Collins did receive as headlined by Wallace, leading to the Dolphins releasing this statement:
"Mike Wallace has apologized for his comments, and we have addressed the matter with him. Mike's comments do not reflect the views of the Miami Dolphins. We believe in a culture of inclusiveness and respect, and any statements to the contrary are in no way acceptable to our organization. We will address the entire team about our policy of inclusion and make sure they all understand the importance of respecting individual choices."
Rumors lately have been floating that there is at least one NFL player considering an announcement similar to Collins'.
For more on Collins' announcement, be sure to check out SB Nation's OutSports.