• Will become first openly gay player to play in major leagues
• Address to LGBT youth group prompts player's return
• Mike Magee traded to Chicago Fire in return for Rogers' rights
———————————–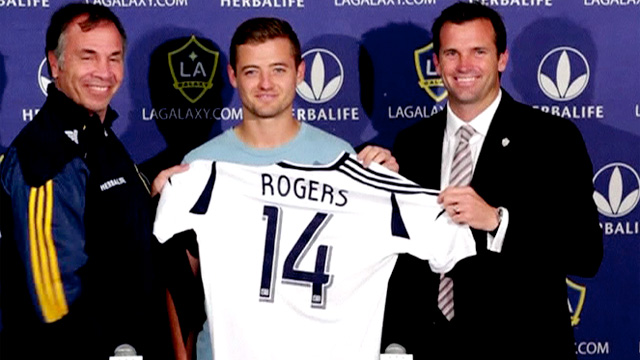 Robbie Rogers is set to join the LA Galaxy in a move that would see him become the first openly gay player signed to a major US men's professional team.
The 26-year-old is expected to be confirmed as an LA Galaxy player at a news conference on Saturday. It comes after the Californian club reached an agreement with the Chicago Fire, who had held Rogers'MLS rights. The deal also sends Galaxy utility man Mike Magee to Chicago.
Rogers, a US international, made headlines when he came out earlier this year, simultaneously announcing that he was stepping away from the game – widely seen as a decision to retire. But in recent weeks he appeared to have changed his mind and had been training with the Galaxy close to his family home in southern California.
NBA star Jason Collins, who came out last month, is not currently signed to a club.
The last obstacle for Rogers' playing return was the question of his MLS rights. Since Rogers' last contract was in England, a slightly complicated process for re-entering the somewhat hermetic economic system of the single-entity MLS – where clubs hold on to, or can trade options on, the playing rights of players, even when they are long out of contract – presented itself. Rogers' rights were held by Chicago Fire, who had right of first refusal, and were able to use that leverage to create the direct trade for Magee.
In a recent in-depth interview with the Guardian's Donald McRae, Rogers seemed to suggest that he had no appetite for the "circus" he thought would have accompanied him continuing to play the game:
If you're playing well it will be reported as: 'The gay footballer is playing well.' And if you have a bad game it'll be: 'Aw, that gay dude … he's struggling because he's gay.' Fuck it. I don't want to mess with that.
Speaking to USA Today about his return, Rogers suggested that the moment that changed his mind was addressing an LGBT youth forum in Portland last month:
These kids are standing up for themselves and changing the world, and I'm 25, I have a platform and a voice to be a role model. How much of a coward was I to not step up to the plate?
A few days after that event, Collins came out, generating even more attention in the American media than Rogers' announcement. With Rogers already thinking about a return, it appeared the social climate and possibility for progress was changing rapidly. He also spoke with his long-time friend Landon Donovan, who'd had his own recent sabbatical from the game, about the potential reaction if he came back. Rogers clearly felt sufficiently encouraged to pursue a return.
On the field
In soccer terms, this is a significant move not just for Rogers, but the Galaxy – and indeed the Fire. For Rogers, it is a chance to force his way back into the US national team picture with one of the highest profile and successful domestic club sides of recent history. He has featured under Jürgen Klinsmann for USA, scoring a memorable equalizer against Mexico. His decision to return to football could see him contend for a place in Klinsmann's World Cup squad next year.
The Galaxy's roster situation, and hopes of adding another designated player in the summer mean that a player trade was always likely, but Magee is an interesting choice. The former New York player was a late withdrawal from the game between the Galaxy and Red Bulls last weekend and looked a disconsolate figure in the locker room afterwards. He had made a name for himself at the club with his playoff goals and also for the kind of late runs into the box that gave an extra dimension to an already formidable Galaxy attack. He had also started this season in excellent form, as the league's joint-second highest goalscorer, with six so far. Rogers is being asked to replace a player who'd become a significant asset.
Chicago will be hoping that some of that form can spark their struggling campaign as they make their second big move of the week — having already brought back defender Bakary Soumare from a difficult spell at Philadelphia Union. The Magee move is a great bonus for them – Rogers had already made it clear he wouldn't be returning to the league to play for the Fire, but their rights option gave them the leverage to secure someone significant from the Galaxy in return.
Ironically, long after the attention on Rogers returns to what he now does on the field, the contractual aspect of his return may yet play a part in another coming circus – the looming collective bargaining agreement negotiations between MLS and the MLS players union. Players' freedom of movement is one of the priorities for the union, who want MLS to come into line with most of the rest of the post-Bosman footballing world. Had the situation with Chicago remained at an impasse, Rogers may have found himself as a reluctant poster boy for more than one cause. As it is, he's now free to focus on his playing career and his new-found role as a gay rights pioneer.