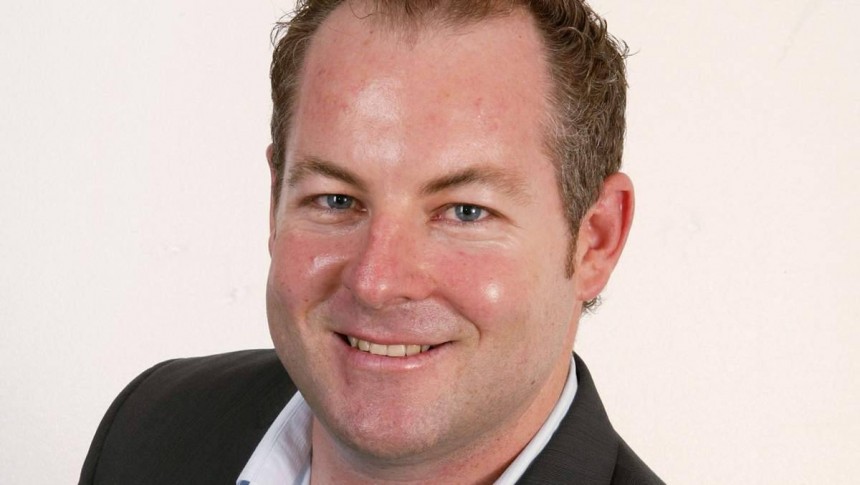 I never thought I would write this column, but I am because of Michael Kirby.
It's about 10 years ago, and I am sitting in the third row of the second tier of the Sydney Football Stadium – the best place in the world to watch footy, and the stadium where I have watched so much of it.
Rugby league grand finals. Wallabies Test matches. Maradona playing the Socceroos. Throw in a U2 concert.
Supporting marriage equality: Wallabies forward David Pocock and partner Emma (pictured) have vowed not to marry until same-sex marriage is recognised. Photo: Andrew Campbell
This time, though, I am not watching sport. I am 26. I am confused. I am angry. Actually, I am pissed off. I'm not entirely sure who with.
Advertisement
I am at war with the world and myself and terrifying everyone who knows me because they fear the unaccountable and loose behaviour from their colleague, their mate, their brother, their son for the past year or so is likely to kill someone, and that person is likely to be himself.
On this night at the SFS, I am at the opening of the Gay Games and Michael Kirby, the Honourable Justice of the High Court of Australia, is about to deliver a speech that stays with me today.
One line stands out.
"Little did my partner Johan and I think, 30 years ago, that we would be at the opening of a Gay Games with the Queen's representative and all of you to bear witness to such a social revolution. Never did we think we would be dancing together in a football stadium. And with the Governor. And that the Governor would be a woman.
"If an angel had tapped us on our youthful shoulders and told us of tonight we would have said 'impossible'. Well, nothing is impossible to the human spirit."
The words hit me like a bolt of lightning. A few days later, I write a letter to Justice Kirby to tell him how profound they had been; how they came at the precise moment when I needed to hear them, because the past year had been a living hell.
That past year had started one Saturday morning, sitting on the couch, watching Rage on TV, considering two alternatives.
One was to jump off the balcony; forever run away from the shame of the dark secret I had known since I was a teenager.
That option had run through my mind for years. I had sat in my car, parked at The Gap, tears streaming down my face, thinking of my family, thinking how selfish it would be to end it. This seemed like the easy option. The alternative was tougher. So I stared at the white blank wall in front of me, and then I said the words that changed my life forever.
Changed my life? It sounds utterly ridiculous to explain it like that now. Those words didn't change me. They saved me. "Mate. You are f—ing gay."
Then I laughed. Then I shook my head. And then I cried, for the next two years.
A few months after sending the letter to Justice Kirby, one came back bearing a High Court letterhead. "I hope you will spare a little of your time to speak of your own journey, Andrew," he wrote. "If only everyone affected, including the families, did so, all this rubbish would evaporate and truth and science would take its place."
I'm not writing this to be a martyr, nor am I looking for sympathy. Believe me, the easier option would be to not write anything at all.
But if getting this down can help evaporate some of this rubbish we are continually fed about same-sex marriage, it can only be for the better.
I wrote this column about 13 months ago, and it was put on ice on the advice of others, but when Newcastle Knights player Ryan Stig compares homosexuality to the work of Satan, as he did a week ago, it's time to roll.
Stig wrote, in a post on Twitter: "Satan has worked so hard throughout culture and society to remove the belief in a Creator … Same-sex marriage laws starting to be passed in this country are a good indicator of this … One thing we are hearing more is that homosexuality can be genetically traced. Well, if that is the case, there's as much proof of alcoholism, yet there are no parades for alcoholic pride."
I've never felt the need to walk in a parade, although I'm certain the devil is responsible for several hangovers.
Did Satan force me to be gay? I can't remember having the conversation with him. There was a time I wish I could blame him, but now I know it was the reasoning of Mother Nature.
The Knights' limp response – "These comments are the personal opinion of Ryan Stig" – and the NRL's lack of one completely does not surprise. Would the game have been so silent if such discriminatory remarks were made about indigenous Australians? Or women?
The reassuring part is that Stig does not represent rugby league.
I could count on one hand the number of times I've heard smart-arse, derogatory remarks from a player. I've lost count of the times when past and present players, coaches and officials have put an arm around me in the last 13 or so years and told me they could not care less.
Last year, the bill to legalise gay marriage was defeated in the House of Representatives 98 votes to 42. Gay rights activists have said since that it's just another step in the process, on the long march to equality.
I'm sorry but that is not good enough. No march. No more debate. No more bulls–t. I've heard it too many times, from too many people, that gay marriage is not an important issue.
Is that the society we truly covet? Where basic rights, the simplest form of equality, are considered an afterthought? We are better than that.
This isn't a debate about religion or law. It is not about tax benefits and superannuation.
This comes down to a simple premise about what's right and wrong. It comes down to whether you think I am good enough to be married to the person I love.
It comes down to whether you think I deserve to have the same privileges in life, just like you.
It comes down to the indisputable fact that sexuality is not a choice. It is not a lifestyle decision. It is who you are.
Wallabies forward David Pocock doesn't know how much of a hero he really is. He and his partner Emma have vowed not to get married until same-sex marriage is recognised.
That is admirable but it's the reason he proffers that makes the real difference.
"The biggest thing in this debate is that we're dealing with people here," he has said. "And how can you blame someone for what they are? People don't choose their sexuality."
With one remark, Pocock summed up my entire life. He summed up the plight of every gay, lesbian, transgender and bisexual person who deserve exactly the same slice of the world and respect as everyone else.
Opponents of gay marriage should be mindful of how difficult the journey can be – for some, for many – as they work out who they are. And how many deny it, pushing it to the recesses of their mind, and if they can't figure it out they end their lives.
That is not being dramatic, that is fact. Because I was that same bloke. I was just lucky enough to listen to Michael Kirby, who taught me that nothing is impossible to the human spirit.
Read more: http://www.smh.com.au/comment/how-michael-kirby-saved-my-life-20131101-2ws8h.html#ixzz2k76UAe00