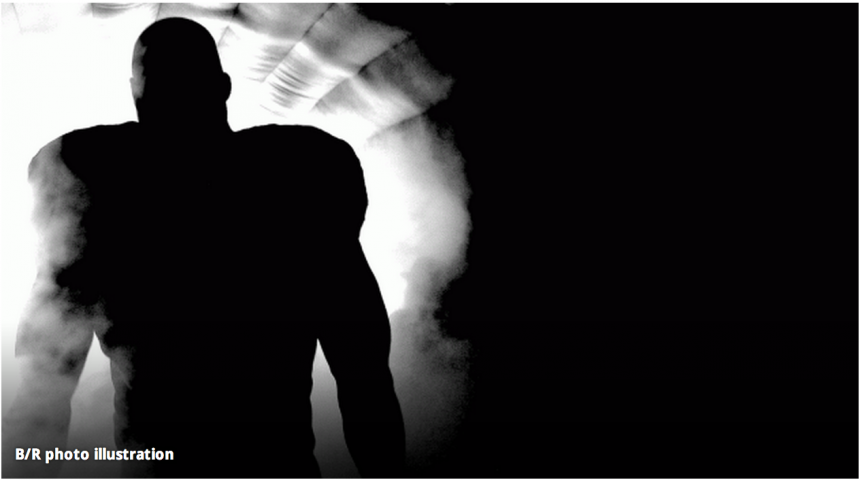 The team had decided yes. The player had decided the same. It was set. It was going to happen. An NFL player was going to publicly say he was gay and then play in the NFL.
What happened before that moment showed how parts of the NFL are progressive and ready for change. Then, what happened next showed how the sport is still in some ways fearful of it.
The following account is based on interviews with approximately a dozen people, including team and league officials, current and former players, and gay-rights advocates. Some were directly involved with the discussions that nearly led to the first openly gay NFL player. Further illustrating the intense secrecy, delicacy and fear surrounding the subject, none of the principals wanted to be identified. They also refused to identify the team or the player.
It was early this past spring when a closeted gay player, who was a free agent, reached out to a small group of friends and told them about his sexual orientation. The friends, both current and former players, and others with NFL connections, then contacted a handful of teams to gauge their interest in the player and their comfort with that player talking openly about being gay if they signed him.
A number of teams contacted passed. The player was told they didn't have a need at his position. The player told a recently retired player he believed the teams declined because they feared the attention a gay NFL player would receive from the public and media.
Yet some teams were interested, and one team actually said yes. It wasn't a lukewarm yes or a conditional one. It was a definite yes.
The team expressed that it didn't care if the player was gay and had no issue with him announcing he was gay after signing. The player expected the signing, and subsequent announcement, to happen in June. This would give the team, fans and media a month to adjust to the news before training camp began.
It was during these talks with the team, occurring in late March and early April, that reports surfaced about the possibility of an openly gay player emerging. In effect, word of the impending signing was leaking. I reported a player was strongly considering coming out. My reporting was based on speaking to several NFL players. Word of an openly gay player signing was spreading among a portion of the player base.
Gay-rights advocate and former Baltimore Raven Brendon Ayanbadejo said in April that he believed several gay players might come out. He later backed away from the number of players but stood by his statement that a gay player would soon emerge onto the NFL stage.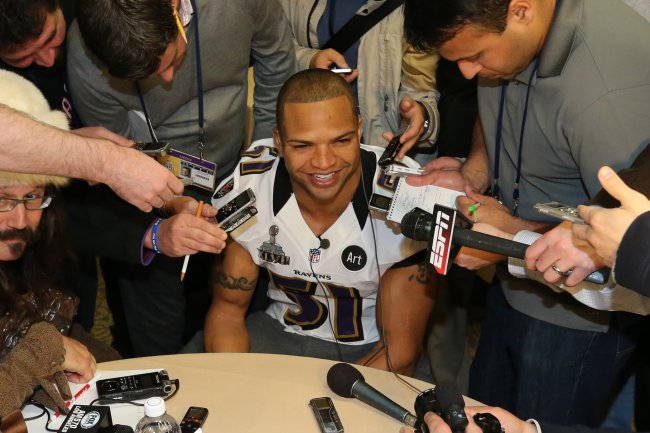 USA TODAY Sports
Outspoken gay-rights advocate Brendon Ayanbadejo is not as confident as he once was about how soon there will be an openly gay NFL player.
Some months later, it's possible Ayanbadejo may have been right. The feeling now among team officials, as well as current and former players, is that there wasn't just one gay player ready to shed his secret, but multiple ones.
"I don't know how close we are," Ayanbadejo said to Bleacher Report in regard to having an openly gay player. "I just know there are gays in the NFL but their identities remain confidential."
The sources paint a remarkable picture. At least two or three gay players, each unaware of the other, living in different parts of the country, with different sets of friends and agents, each contemplating the same thing: coming out.
That period was, as one gay-rights advocate described it, "the spring of optimism for the NFL and gay rights." There was a feeling that the NFL was on the verge of crossing this significant barrier. There was great excitement. It was going to happen.
Until it didn't.
***
The question now is: What happened?
In considering possible answers, it's important to know five things.
First: Estimates of how many gay players are in the NFL range widely, but some of them, from people intimately familiar with the league, are far higher than might be assumed by the outside public.
Players and team executives give totals ranging from several dozen to several hundred. (There are about 2,000 players in the league.) One former general manager said he believes the number of gay players is 30-40.
Second: The NFL and union know the identities of some gay players, according to many sources—a gay-rights advocate, a union official and a team official. The league and union learn who these players are from other players and coaches. They keep the identities of these players secret. In some cases, teams do so to protect the players. In many cases, teams learn the identities to avoid signing them as free agents.
Third: The league office backs the idea of an openly gay player, but one high-ranking league official believes the NFL isn't yet ready for one. League executives think football is three to five years away from accepting such a player, according to an NFL source. The league plans to carefully and deliberately make the atmosphere more tolerant and comfortable in the meantime, setting the stage for when that happens.
The NFL actually wants an openly gay player because it would be one of the last barriers broken in the sport and show professional football as a tolerant sport. And not everyone thinks the league needs to wait. Another league-office executive said the NFL is ready now. "We are prepared," he stated. "The league would give the player and his team all the support necessary."
In response to this story the NFL issued a statement saying all players are protected by the NFL's Personal Conduct Policy. A manual given to every player during training camp includes language about violent or threatening behavior between employees inside and outside of the workplace. It includes documents relating to sexual harassment and sexual orientation.
Fourth: Some individual franchises, however, are not as enthusiastic about the prospect as the league office seems to be. Several team officials say the largest obstacle to an openly gay player is the resistance of a significant number of NFL owners and a smaller number of general managers and coaches.
Fifth: Many in the league are fearful of acting or even speaking on this subject. Quite simply, teams remain terrified of signing an openly gay player.
One team official gave an example of why there is such fear. He posed a question: What if a gay player came out in a place like the Dolphins locker room, where there was allegedly severe hazing?
Some stories out of the last NFL combine indicated teams are worried. Nick Kasa, a prospective pro out of the University of Colorado, told ESPN Radio in Denver earlier this year that during interviews with team officials at the combine in Indianapolis: "(Teams) ask you, like, 'Do you have a girlfriend?' 'Are you married?' 'Do you like girls?'" Big-name players like Michigan's Denard Robinson and Michigan State's Le'Veon Bell indicated in radio interviews that they were asked similar questions. The assumption was that the questions were some form of standard operating procedure not tied to the particular interviewees.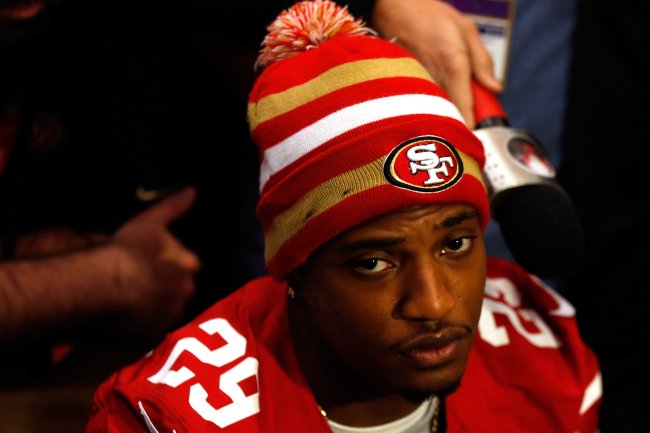 Scott Halleran/Getty Images
Chris Culliver's homophobic remarks in advance of the Super Bowl this year offered a glimpse at the reception an out player might get.
During media day before this past Super Bowl, 49ers defensive back Chris Culliver said, "I don't do the gay guys, man. I don't do that. Got no gay people on the team. They gotta get up outta here if they do. Can't be with that sweet stuff…Can't be…in the locker room, nah. You've gotta come out 10 years later after that."
It's this fear of gays that helps explain why many in the NFL are nervous about addressing the issue on the record. Some sources feel that talking openly about gay issues will label them as being part of the gay-player discussion and harm them in their current positions across the sport.
Still, some players strongly believe an openly gay player would be welcome in an NFL locker room.
"Players, in general, don't care what other players do in the bedroom," Arizona kicker Jay Feely, who is in his 13th season and has been a longtime union representative, told Bleacher Report. "Whether that is being celibate, having an affair, being happily married for 20 years or being gay. No one cares. The only thing they care about is winning games (and getting paid). That's the honest truth.
"This story is not about football or locker rooms but outside factors and agendas that are using football as the carrot to attract attention for their own personal gain."
To others, both in football and out of it, an openly gay NFL player would be a monumental moment, signaling that yet another barrier has fallen not just in sports, but all of society.
***
This past spring, it seemed imminent that barrier was going to collapse with not one, but two players having found teams that would sign them knowing they would come out.
Along with the initial player discussed in this article, there was a fairly well-known defensive back. He drew interest from at least one AFC team that knew he was gay. Coaches on the team were asked if they were OK with a gay player. They were. Some defensive players were casually queried, according to an official on the team. All of the players asked said it wouldn't be an issue. They were not told the name of the player.
According to the team, the potential deal collapsed when the player wanted too much money. If that was the case—and there is doubt about that among gay-rights advocates—it stands apart from everything else league insiders are saying about an NFL which they know includes many gay players and not a single one who will publicly acknowledge he's gay.
The first player, the one who expected to sign in June, heard in mid-to-late May from the interested team that it would no longer be signing him, officials from other teams told Bleacher Report. The player was told the reason why was fear of intense media coverage.
It was at the end of April that NBA player Jason Collins wrote a first-person story forSports Illustrated in which he stated he was gay. The story became one of the most discussed in recent sports history.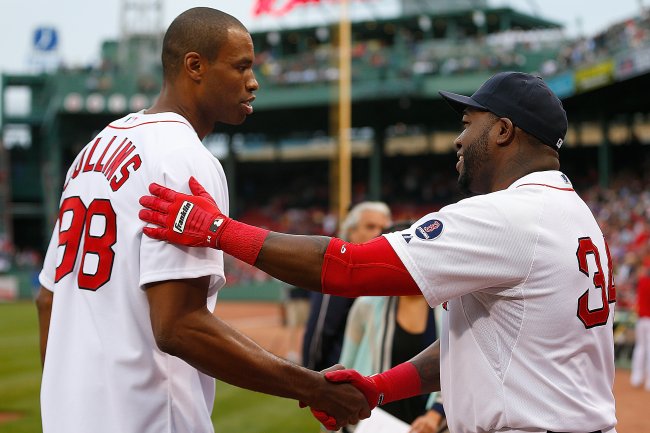 Jim Rogash/Getty Images
Did the media attention Jason Collins received scare off NFL teams thinking of signing a gay player? Collins has not been signed by an NBA team.
The NFL player told a former teammate he believes the Collins story, and others about gay athletes around that time, caused the team to withdraw its offer. It was afraid of the attention. Now, six months and countless injuries to active players later, neither he nor the other player has signed with a team.
While being afraid to sign an openly gay player smacks of cowardice—the Dodgers signed Jackie Robinson knowing there would be not only disapproval but possibly violence directed against the club—it remains a fact teams fear almost any type of controversy. And this would be one of the more talked about stories ever.
So after lots of talk of a gay NFL player coming out, the talk disappeared. Because NFL teams, in the end, got cold feet. It's that simple.
The sport still isn't quite ready for an openly gay NFL player.
***
All sources close to the players were asked one question repeatedly: Why don't the players just come out?
The answer was the same—fear. If they come out before signing, they won't get signed. While the players want to help push change, they also want to play football. Some will point to how Collins remains unemployed post-announcement.
The other problem is the league itself. It has, at times, moved extraordinarily slow on this issue. One gay-rights advocate who has had extensive dealings with the NFL said the league is trying to do the right thing but "it's like changing the course of a cruise ship."
Go back to an important fact. At least one league official believes pro football is three to five years away from a gay player coming out. Thus we're seeing the S.S. NFL turning hard to starboard toward a gay player coming out, but turning ever so slowly.
It will happen. It's just a question of when.
The two likeliest scenarios remain true. The first is what happened with the NBA's Collins could happen in the NFL. A player toward the end of his career comes out while a free agent or just after signing with a team.
The other possibility is a high-profile player in college is openly gay and has discussed this in media interviews for years. By the time he's picked high in the NFL draft, his sexuality has been so discussed and analyzed that no one cares.
And that is the goal. Reach a day when no one will care.
Originally published by The Bleacher Report