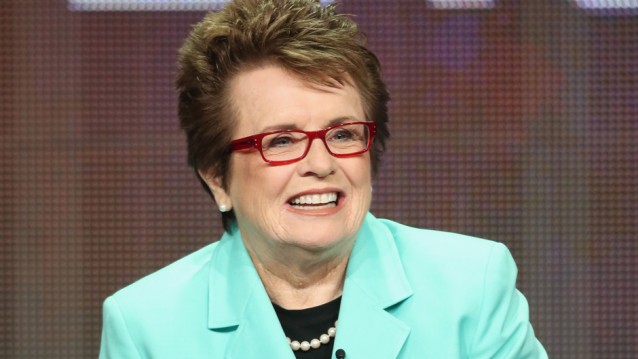 As controversy erupted over Russia's anti-gay law ahead of next year's Sochi Olympics, President Barack Obama said that he opposed boycotting the Games in favor of letting the United States delegation lead by example on the LGBT rights front.
"One thing I'm really looking forward to is maybe some gay and lesbian athletes bringing home the gold or silver or bronze, which i think would go a long way in rejecting the kind of attitudes we're seeing there," Obama said. "And if Russia doesn't have gay or lesbian athletes, it'll probably make their team weaker."
Tuesday, Obama took a step forward in providing that example, selecting tennis legend and former U.S. Olympic coach Billie Jean King, a lesbian who has long been an LGBT equality advocate, to be a part of the delegation that will represent the White House at the opening ceremony on February 7. Hockey player Caitlin Cahow, who is also openly gay, will be a part of the delegation to the closing ceremonies on February 23.
King became the first major female athlete to come out in 1981. Cahow came out in an interview in November.
The White House did not, of course, list King or Cahow's sexuality or advocacy as a reason for their inclusion. King is a Hall of Fame tennis player and a member of the President's Council on Fitness, Sports, and Nutrition, and Cahow is a silver and bronze medal-winning Olympian, so both are worthy selections on their athletic achievements alone. But whether it was a reason for their selection or not, their place in Sochi will demonstrate exactly the point Obama said he hoped American athletes would make.
"The U.S. Delegation to the Olympic Games represents the diversity that is the United States," the White House said in a statement.
"It's obviously a statement that's being made, but I think it's an incredibly respectful one," Cahow told USA Today. "Basically, the White House is highlighting Americans who know what it means to have freedoms and liberties under the constitution. That's really what we're representing in Sochi and it's not at all different from what's espoused in the spirit of Olympism."
As with the first two Olympics during his presidency, Obama will not attend. Vice President Joe Biden led the delegation to Vancouver in 2010, while Michelle Obama and the Obamas' daughters represented the White House in London.
University of California chancellor and former secretary of the Dept. of Homeland Security Janet Napolitano will lead the American delegation to the opening ceremonies. That delegation will also include Michael McFaul, the U.S. ambassador to Russia, Robert Nabors, the president's deputy chief of staff for policy, and Brian Boitano, who won Olympic gold as a figure skater at the 1988 Calgary Games. McFaul will join Cahow, deputy Secretary of State William Burns, and former Olympians Bonnie Blair and Eric Heiden for the delegation to the closing ceremonies.
There had been questions about whether Obama would send a delegation at all, especially after German president Joachim Gauck and a European Union commissioner said they would skip the Games over Russia's anti-gay law. In the end, however, by sending openly gay athletes who have reached the pinnacle of sports both by winning Olympic medals and coaching Olympic medalists, Obama is sending a more powerful statement to Russia than snubbing the Olympics altogether ever could have.