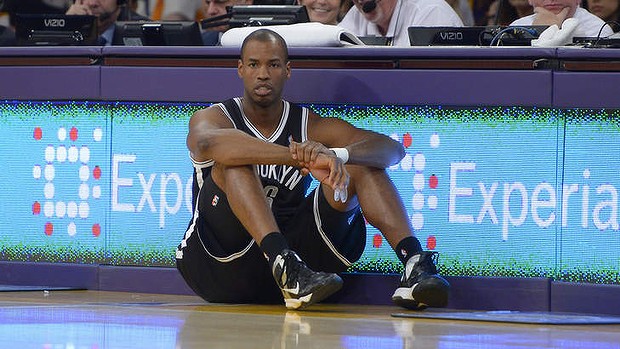 Brooklyn Nets centre Jason Collins, battles for a rebound with Los Angeles Lakers opponent Jordan Hill during the clash at the Staples Center. Photo: AP
Jason Collins became the first openly gay player in the four major US professional sports leagues on Sunday night when he got court-time in Brooklyn Nets' 108-102 NBA victory over the Los Angeles Lakers.
Collins was signed to a 10-day contract on Sunday, nearly 10 months after his announcement on April 29 in Sports Illustrated. He had two rebounds and five fouls in 10 scoreless minutes.
I don't have time to really think about history right now.
The 12-year veteran spent his first six-plus NBA seasons with the Nets and helped them get to the NBA Finals in 2002 and 2003. This was the 35-year-old centre's first NBA game since April 17, 2013, with Washington.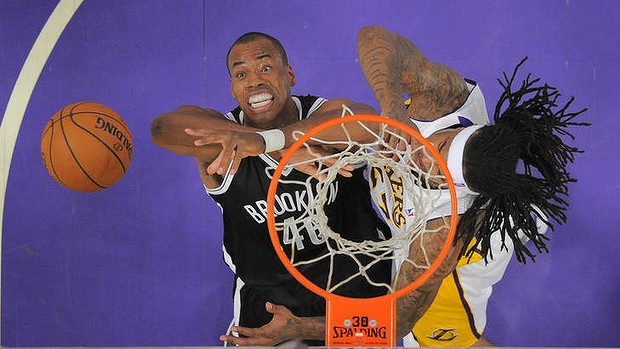 Brooklyn Nets centre Jason Collins waits to enter the game against the Los Angeles Lakers. The Nets won 108-102. 
Photo: AP
Speaking to a scrum of reporters before the match at the Staples Center, he said his biggest concern was proving he still belonged in the league. "Right now, I'm focused on trying to learn the plays, trying to learn the coverages, the game plan, my assignment. I don't have time to really think about history right now."
Advertisement
Deron Williams had 30 points and Paul Pierce 25 points, helping the Nets end an 11-game losing streak against the Lakers.
Pau Gasol had 22 points and 11 rebounds for the Lakers, who never led and lost for the 24th time in 30 games with Kobe Bryant, Steve Nash and Xavier Henry all sidelined by injuries.
Brooklyn Nets recruit Jason Collins and Pau Gasol shake hands in the second half at Staples Center.
Photo: Getty Images
In Miami, LeBron James watched from the bench in a suit and tie as Chris Bosh and Dwyane Wade powered Miami to a 93-79 victory over the Chicago Bulls.
James was a late scratching after he broke his nose in Thursday's win at Oklahoma City, and his teammates picked up the slack. Bosh had 28 points and 10 rebounds, and Wade added 23 points, 10 rebounds and seven assists.
Joakim Noah had 20 points, 15 rebounds and four blocks for Chicago, who had won five in a row.
Miami, playing at home for the first time in 20 days, extended their winning streak to five games.
In Oklahoma City, Jamal Crawford scored 36 points to help the Clippers score a 125-117 win.
Matt Barnes scored 24 points and Chris Paul had 18 points, 12 assists and eight rebounds for the Clippers, who snapped a two-game skid.
Kevin Durant had 42 points and 10 assists and Serge Ibaka added 20 points for the Thunder, who lost their second straight. It was the most points the Thunder have allowed this season.
Oklahoma City overcame a 15-point deficit late in the third quarter to take a 115-112 lead with 2:43 to play, but the Clippers controlled the game from there.
In Denver, Isaiah Thomas scored 33 points, Rudy Gay had 32 and Sacramento earned its first win in Denver in six years, a 109-95 triumph.
In other matches, the Houston Rockets downed the Phoenix Suns 115-112, the Portland Trail Blazers defeated the Minnesota Timberwolves 108-97, the Washington Wizards overpowered the Cleveland Cavaliers 96-83 and the Toronto Raptors were too strong for the Orlando Magic 105-90.
AP
Read more: http://www.smh.com.au/sport/basketball/jason-collins-creates-history-by-becoming-first-openly-gay-man-in-major-us-sports-league-20140224-33d3p.html#ixzz2uHhCLyJS