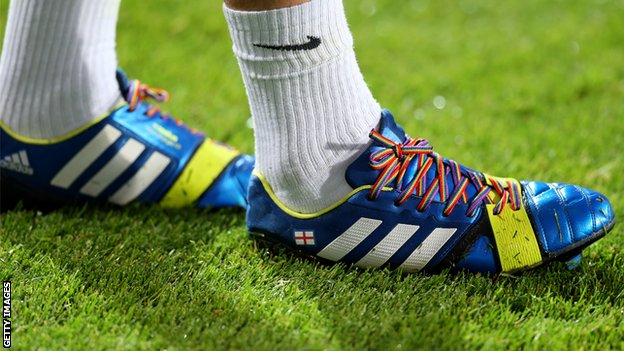 By Natalie Pirks
BBC sports correspondent
This weekend, footballers at the 134 professional clubs across Britain are being asked to show their support for gay footballers by swapping their normal boot laces for rainbow coloured ones – the international symbol for gay pride.
Everton were the first Premier League club to confirm that several of their first-team players will don the laces for their match against West Ham. Players like QPR midfielder Joey Barton, Fulham goalkeeper David Stockdale and Cardiff striker Peter Odemwingie have also pledged their support.
The charity partner of the campaign, Stonewall, says the simple act of swapping laces will highlight the issue of homophobia in our national game and get football fans talking.
The problem is it could be talked about for all the wrong reasons. It's likely Everton will be in the minority this weekend and the Premier League believe that is something that could have been avoided if they had been consulted in the first place.
Joey Barton is backing the campaign and wore the rainbow laces during QPR's match against Brighton at Loftus Road
The league released a terse statement on Wednesday, praising the underlying message but adding: "Had we been involved earlier in the process we could have worked with Stonewall to consider things like boot deals, the use of particular betting partners, and other issues." And that is where naivety has played a part in potentially muting an important message.
Stonewall's 2009 survey found that seven out of 10 fans had heard homophobic chanting or witnessed homophobia in the stands. This weekend, with a Manchester derby on the cards, they want to highlight that in their mind, nothing has changed. Football is, in their words, still in the dark ages.
So on Monday they launched their laces campaign,  but the first most clubs say they knew of it was when a box, covered in branding from betting agency Paddy Power, was delivered to their training grounds with the tagline 'Right Behind Gay Footballers'.
Many I have spoken to initially thought it was a joke, expressing genuine shock that "something so crass" had been signed off by Stonewall.
"It is incongruous to run a campaign aiming to change football culture whilst using language which reinforces the very stereotypes and caricatures that, in the long term, ensure that homophobia persists"
Football v Homophobia (FvH)
But Paddy Power is not exactly known for its softly softly approach and that is the major problem for many clubs. The company recently had to apologise after their advert for Cheltenham Ladies Day was banned for being offensive to the transgender community. As one club told me: "If you want to effect cultural change around a sensitive issue, you don't join up with Paddy Power."
Stonewall's media manager, Richard Lane responded: "Homophobia in football is a tough nut to crack. Paddy Power has a huge reach, their style is cheeky and authentic to them and can get through to fans and clubs.
"The message is certainly tongue in cheek but it is going to get people engaged. The attention it's receiving means it's starting debates and that can only be a good thing."
Clubs though, genuinely believe they needed more time, with proper consultation, to be able to give the campaign the support it deserves. Clubs have described feeling 'fearful' that if their players do not wear the laces, they will be condemned as homophobic.
Of the Premier League clubs I received calls back from, most supported the principle of the campaign, with nine saying they have made their players aware of the laces and have "left it up to them" as to whether they will wear them.
But other clubs have confirmed they will not be taking part at all – Manchester United and Liverpool – with at least three others I have spoken to expected to follow suit.
PFA chairman Clarke Carlisle thinks players would be supportive of an openly gay colleague
A Liverpool club spokesperson said: "The underlying message of the campaign is a good one but we have taken the decision not to participate and our players and staff will continue to support our existing programmes."
Similarly West Ham players have been wearing the laces in training but will not be wearing them against Everton. After consulting the players, the club felt boots on a match day were a personal thing and this was the best way of showing they support the campaign without disrupting a player's preparation.
Sunderland have also stressed that while they "wholeheartedly support" the underlying message behind the campaign, they were "not entirely comfortable with the third party commercial link to this initiative and were also disappointed that there was no prior consultation with clubs as we could have offered useful input".
And Tottenham told me that while the message is one they support, the lack of prior consultation meant there are too many issues "in respect of third party commercial entities", adding: "We have contacted Stonewall directly to let them know we are keen to discuss ways in which we can work together going forward."
Kick it Out, the anti-discrimination campaigners, have worked with clubs now for 20 years. They know first hand of the difficulties involved with effecting change in football and expressed concern they were not brought on board.
Members of Nottingham Ball Bois said they would welcome a gay role model but the correct environment for coming out needed to be created
If they had have been consulted, they believe they could have used their influence with clubs to take a more sensitive approach, meaning they might well have been more receptive rather than the way some feel now – "ambushed by a betting company's marketing ploy."
There is understandable frustration within Stonewall though, and in the further lesbian, gay, bisexual and transgender (LBGT) community, that football is dragging its heels on this. After all, as one activist told me, how much of a heads-up do you need to change laces?
But they are fast learning that the gears in football grind at a much slower pace off the pitch, than the football played on it.