Ian Thomson
Writer & Director

Director's Statement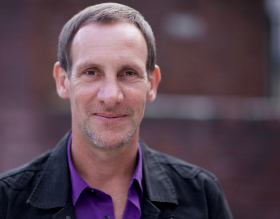 I first met Thomas while on a surfing trip up to Byron Bay. I was impressed by his enthusiasm and tenacity in setting up the world's first online community for gay surfers. I signed up the very next day. After returning to Sydney and meeting up with Thomas again, we agreed that the moving and often hidden stories from many of the surfers Thomas had met through the site, needed to have a voice – not as any form of self-promotion, but to help and inspire others who are struggling finding their place between surf and gay culture. The more people I spoke to, the more I was sure that these are stories that need to be told. It is often said that in gay culture there is not the chance to pass down our stories through children and families, which to me made it even more important to create a film, that can heal, reach out and unite gay and straight people, surfers, families and individuals across cultures, countries and generations.
When I still read daily reports of homophobia, violence, suicide and capital punishment for gay people in Russia, Iran, Uganda, Africa, South America and many other places around the world, I am reminded of why is important for me to make this film.
---
The film is an interview driven documentary in social essay style, documenting the birth of a global community through social media. It does however also incorporate strong narrative elements as it follows the global journeys of two lead protagonists in search of a community, a collective voice and a context to understand their own identities as gay surfers within the context of surf culture. These aspects of the film are presented in a road movie style, with traveling montages to music, and spectacular scenic and surfing sequences.
The film investigates issues such as the history of homophobia in surfing, the gap between gay culture and surf culture, the issues facing gay women in surfing, the taboo of homosexuality in professional surfing as well as psychological and mental health issues that affect gay people within surfing communities. These stories unfold through the anecdotal descriptions of the film's lead protagonists, with added excerpts from a wide variety of participants – in order to create a broad coverage of experiences and points of view.
The visual style of the film is observational and naturalistic and a modern homage to the classic surf film, featuring surfing and travelling montages to contemporary music.
Film/Theatre Credits
"OUT in the Line-Up" (Writer & Director), 2013. A documentary about homosexuality and surfing. Currently in production (https://outinthelineup.com)
"Atados" (Writer & Director), 2011. This short film was presented in short film festivals in Bogata, York and Budapest (http://www.ianwthomson.com/short-films.html).
"Stories" (Writer & Director), 2010. This corporate film was celebrated with awards in Vienna and Hamburg (bertelsmann-stories).
"The Open Relationship" (Director), 2010. This theatre production celebrated 3 runs in Hamburg and Bad Segeberg (http://www.offenezweierbeziehung.de).
"The Garden Fence" (Writer & Director), 2009. After 3 success runs of the self written and directed play in Hamburg, the theatre-film of the production was screened in Berlin, Munich, Bremen and Kiel (http://dergartenzaun.com)
"Desiderata" (Writer & Director), 1995. 10 mins. An experimental short film awarded through the "Black Nail" film festival in Byron Bay.
"Burn, David Byrne" (Co-Writer and Director), 1992, NDR TV (Germany). 45 mins. A reportage about ex "Talking Heads" front-man David Byrne, for NDR television.
"Veni, Video, Vici" (Writer & Director), 1992, Premiere TV (Germany). 45 mins. A reportage about the Video Art program of the Berlinale.